We're All Adjusting And So Should Your Brand Guidelines
The COVID-19 global pandemic has disrupted many of the ways we communicate. One significant new consideration is in the way companies present their brand image.
A few months ago, it was normal for companies to use pictures of shiny, happy people gathering together or icons of handshakes in their communications materials. Now with social distancing measures in place, companies are taking the risk that their brands may be perceived as out of touch with reality if they use such images or graphics.
With many health experts predicting social distancing orders are likely to continue over the coming months even as the economy begins to re-open, the pandemic is an important reminder to consider how images used on both internal and external channels may impact the perception of your organization.
This kind of responsiveness and flexibility can help maintain brand credibility and show your company is current, cognizant and responsive to major global events.
Your Brand's Visuals Should Reflect the Time Period
Organizations routinely refresh or adjust their brand assets to stay in tune with trends and relevant with audiences to protect or enhance their brand equity.
David Aaker, widely considered the father of modern branding, defines brand equity as, "a set of assets or liabilities in the form of brand visibility, brand associations and customer loyalty that add or subtract from the value of a current or potential product or service driven by the brand." The evolution and growing acceptance of brand equity in recent times has reinforced the idea that brands are assets that drive business performance over time, according to Aaker.
A recent example of brands adjusting to the changing times occurred in 2015, when the legalization of same-sex marriage was expanded to all 50 states in the US. As a result, many companies responded by adjusting their logos with rainbows to show support. The adjustment was amplified on social media with Facebook and Twitter enabling the rainbow filter for profile pictures.
In a totally different context, many brands have begun adapting their logos and communications to align with society's changing mores during the COVID-19 global pandemic.
In the past few months, companies including Burger King, Coca-Cola and Volkswagen shared overly spaced adaptions of their popular logos to reinforce the message of social distancing: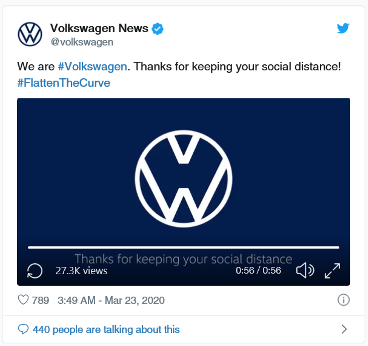 In another twist, the outdoor activewear and gear company Cotopaxi adjusted its logo to include a mask:

Not every company needs an alternate logo, but businesses should be mindful of how the images used in their communications will be perceived.
Consider Developing Alternative Options Within Your Brand style
We are collectively developing a new visual language for the strange times we are living in. While the future is uncertain, companies can prepare different iterations of graphics and guidelines in anticipation of scenarios. This kind of brand hygiene can help organizations to be prepared and reduce risk ahead of a crisis or special situation.
The images used on branded materials such as reports, presentations and websites should reflect those guidelines. Some considerations of how your company image assets may change include:
Images of workers wearing masks and avoiding contact in the workplace.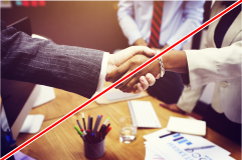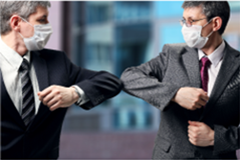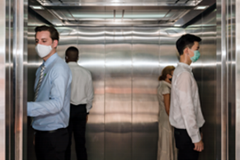 Images that show employees working from home, conferencing on video chats, balancing work and wellness in their homes.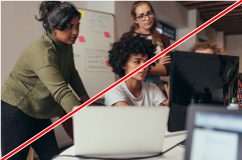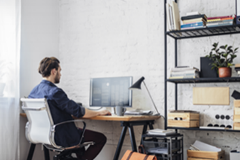 Images that appropriately convey current examples of contributing to the community.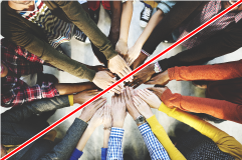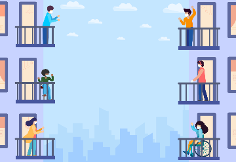 Adjustments may extend to icon assets as well. For example, brand managers may consider developing alternative representations of the commonly used handshake icon, within their brand styles, to indicate partnerships or agreements: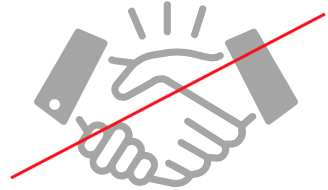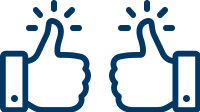 In this time of great uncertainty, just as businesses are evolving their core operations to address an unprecedented situation, they would also be wise to consider adjustments to their branding. Organizations can weather the changing times while boosting consumer confidence in their company's products and services by recognizing brand equity as a strategic area and identifying opportunities within their branding assets to be proactive and prepared.