Building on PESO: An Audience-Based Approach
In 2014, Gini Dietrich's Spin Sucks: Professional Development for PR and Marketing Pros put pen to paper on an unspoken communications process: the Paid, Earned, Shared, Owned model – otherwise known as PESO. For six years, PESO has been the cornerstone of almost every strategic communications framework.
At the time of PESO's inception, the communicator's strategy of "breaking through the clutter" was to create more clutter. The thinking was that if we flooded everywhere with content, we'd create awareness somewhere. While the model's surround-sound strategy is still effective, audiences are getting better at tuning out the noise and results are becoming harder to achieve. This means communicators must adapt and evolve their approach to engagement. Specifically, the multiplying of content and platforms highlights a need to think about models that complement PESO. Instead of using PESO to emphasize channels employed, communicators must reorient to focus on audiences reached.
Audiences are Taking Back Control
Content inundation has increased steadily since the Mad Men Era. In 2019, the average U.S. citizen was exposed to 5,000 advertisements each day, a 1000% increase since the '70s. Public response to this fight for consumer consciousness is to block it out: 26% of Americans have installed ad-blocking content on their device. Even more, a spring 2019 study out of the Technical University of Denmark found that an "abundance of information narrows our collective attention span." When examining Twitter trending hashtag datasets, researchers discovered that since 2013, the average length of time topics trend on Twitter has shrunk dramatically. In 2013, a hashtag stayed trending for an average of 17.5 hours – by 2016, the time frame was 11.9 hours. What's more, experts estimate that more than 1.7 billion websites are currently in existence, with another 380 being added every 60 seconds.
A New Model
The 2014 model of throwing caution to the feed is not a viable option for messengers. The scattershot approach means fewer people care to listen, watch or engage with anything. If communicators want audiences to slow down and listen, we must do the same via an audience-based PESO approach.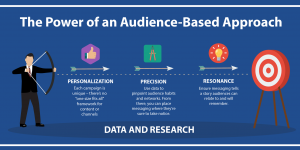 An audience-based PESO approach is one that begins with research and data analytics. It's crucial that communicators start any strategy by first identifying and understanding audience habits and opinions. To know how to best reach new audiences, we first need to understand how they already interact online and offline. From there, we can create a data-centric campaign rooted in personalization, precision and resonance.
Personalization of communications campaigns, content and channels. There is no "one size fits all" strategy anymore. We live in a data-rich world. Each communication plan must be custom – defined by the audiences we're trying to reach and their habits. If we are to create content, it must speak to audience interest, word choice and format.
Precision of ads and tactics deployed – from event sponsorships to digital display banners and email marketing. A scattershot approach won't produce tangible results, wasting a client's money and a communicator's time. Rather than plastering ads all over town or speaking at an event and hoping the right person catches wind, our updated model leverages microtargeting, social graphing and more to ensure target recipients see the messaging.
Resonance of messaging, content and the campaign itself. The luxury of guessing success rates no longer cuts it. We have the frameworks to measure and optimize in real-time. How is our message adoption trending? Whether it be pulse checks, surveys or digital metrics, being agile enough to course-correct in real-time drives resonance.  It also helps ensure that no matter the medium, audiences take notice.
At FTI, we know a strategy that listens before it leaps is the key to success. From manufacturing floor managers reporting internal chatter around an external campaign to let employees know their worries are being addressed, to hyper-targeted investors reaching out to inquire about the new fuel source they've been seeing everywhere – we see the concrete results of campaigns implemented with a PESO Audience-Based Approach every day.
More importantly, this updated model shows desired audiences that messengers are being thoughtful with their approach. It also allows us to slow down and get back to the root of what it means to be a good communicator: listen first, understand and process, then engage.
The views expressed herein are those of the author(s) and not necessarily the views of FTI Consulting, Inc., its management, its subsidiaries, its affiliates, or its other professionals.